 I am a novelist, screenwriter, and film producer. Welcome to my site and the home of the Johnny Delarosa Thriller Series. The series has been called, "Noir for the 21st century!"
This site is also home to my movies! Above is the poster for, Hometown Remedy, written by yours truly and produced by me and my producing partner, George Maranville. The movie is currently in post-production and will be ready during summer 2023. It is currently being represented by American Cinema International and we will be announcing a U.S. TV deal very soon. Please see the trailer below and stay tuned for updates!
Hometown Remedy Trailer:
https://www.youtube.com/watch?v=WYAEkmhHU9Q
The first three books in the Johnny Delarosa series are:
RAVEN RAIN
Dust off your speakers and shine up your earbuds!  RAVEN RAIN  is now on audio!
RAVEN RAIN is now an audiobook! The talented narrator/producer Bill Lord did a masterful job creating the audio version of the book. Trust me – I had the opportunity to listen and he turned in an award-worthy performance! Not only did he create a dramatic and entertaining read of the book, but he also brings a nuance to each character that really makes the story come alive in the theater of our minds. I am so thankful to have Bill as my collaborator.
If you like audiobooks, RAVEN RAIN, is a must have. If you are new to audio, this book is a great way to get started!
And as a bonus – Bill was kind enough to provide us a peek behind the curtain to watch him work!  CLICK HERE to watch/listen Bill as he records the Prologue of Raven Rain.  It is very cool!
RAVEN RAIN
Great review from Kirkus Reviews!
"Sharp prose and vivid characterizations elevate this detective story." ~ Kirkus Reviews
CLICK HERE TO READ THE KIRKUS REVIEW
CLICK HERE to Order!

EXOTIC. ALLURING. DEADLY.
Johnny Delarosa's past collides with his future when hired to stop a blackmail scheme against a local celebrity, former pro football star—turned car dealer—Stan Shelton. When a young woman's body is found in front of Stan's building, allegations surface of his involvement with an escort service owned by Talia Thorne, the alluring woman with long, raven hair. But Stan has a bad habit of fumbling the truth, and with his back against his own goal line, the pressure builds for Johnny to keep the old pro's name out of the news. But when a dogged detective meets an untimely demise, and the elusive Talia provides more questions than answers, Johnny is pressed into a fourth and long—with the clock running out—as his journey to find the truth—and clear his client—spirals into an abyss of deceit and death, in the third Johnny Delarosa thriller, Raven Rain.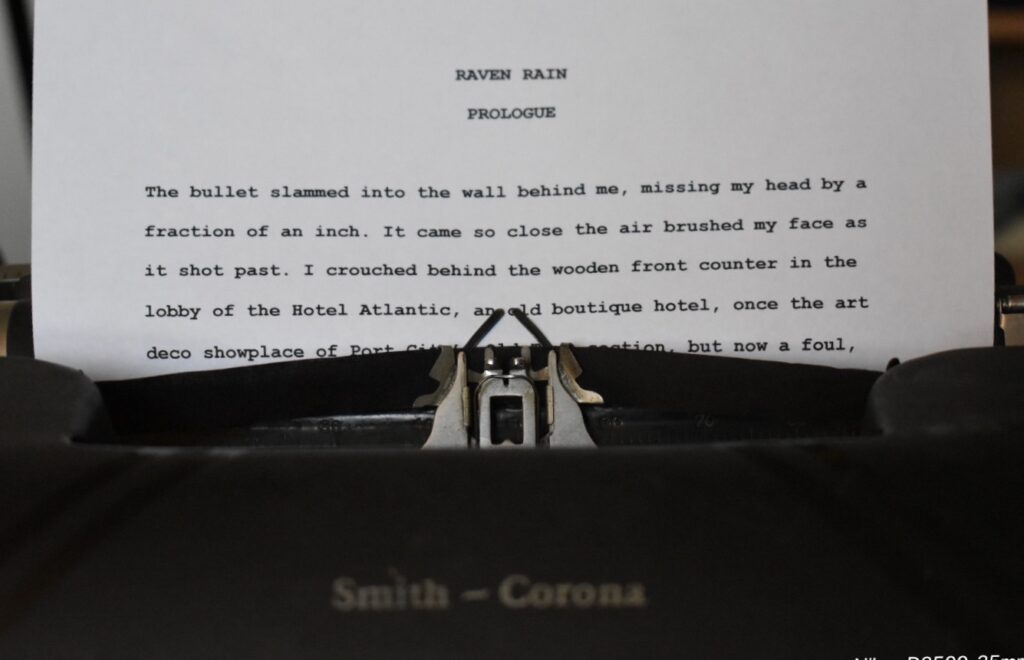 **********************
Below is a video interview with Bill Lord that is now on YouTube and other outlets. Enjoy!
"From Author to Actor: The Creative Process of Audiobooks"
Audiobook narrator/producer Bill Lord and author David Stever explore each other's process in writing and then creating the audiobooks of the Johnny Delarosa private eye thriller series.
*******************
Toxic Blonde is now available as an audiobook! Audiobook fans: Do not miss the very talented Bill Lord as he brings the book to life!
Click Here for the audiobook.
TOXIC BLONDE
Top five finish in the 2020 Readers' Favorite Competition – Crime Fiction Category!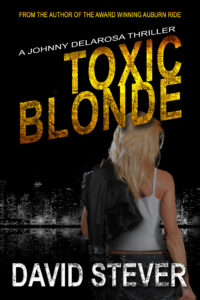 News and Reviews for the Johnny Delarosa Thriller Series:
Reviews for TOXIC BLONDE:
"5 Star +++! Enjoyed the book immensely and can't wait for the 3rd in the series. Highly recommend. Great development of characters and plot line. Definitely kept me turning the pages!"
"This is my second David Stever book this week. Loved them both, fast paced, really great , and likable characters. I highly recommend this book and the first book in the series, Auburn Ride."
AUBURN RIDE
AUBURN RIDE  – Winner!  The Maryland Writer's Association 2017 Mystery/Thriller of the Year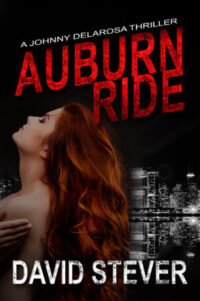 Great reviews for the AUBURN RIDE audio book!
"Loved it!"
"I absolutely love discovering a new author, a new character, and a new narrator!!! This book delivered on all counts."
"The story had some delicious levels of intrigue and mirth and it was a non-stop thrill to the very end. Delarosa took a page out of how to be a badass and I liked this character instantly. The narrator was something special. Bill Lord made Delarosa manly but with a soft spot that was very personal and relatable."
"Everything you like about listening to audiobooks is in this listen…with spades!" ~ Dee on Audible.
Check out other Audible reviews HERE
The Amazon reviews are five-star great…!
"Auburn Ride: A Johnny Delarosa Thriller is an iconic mystery/thriller story reminiscent of Mickey Spillane and Sam Spade…This is a must-read for all mystery readers, young, old, and in between. "      ~ Reviewed by Trudi LoPreto for Readers' Favorite
"AUBURN RIDE is 21st century noir – and a terrific tribute to the genre." ~ KHH_Reader
"A hard boiled detective story, with a story line to hold onto, and characters to draw you in. Great read! Engaging until the last page." ~ Michelle Robinson Shealy
"Intriguing! A must read!
"A page turner that kept me binge reading…"
"Awesome read…Couldn't turn the pages fast enough…"
"Highly Recommend…a great read. Love the way the author develops the characters. Could not put the book down…"